The McCormack Campground at Lake Owyhee is a good place to base for a few days of diving in this southeast Oregon high desert reservoir.  This dive site doesn't have that interesting of topography but it still is worth a look.  You can launch a boat from here to explore the further reaches of the canyon as well.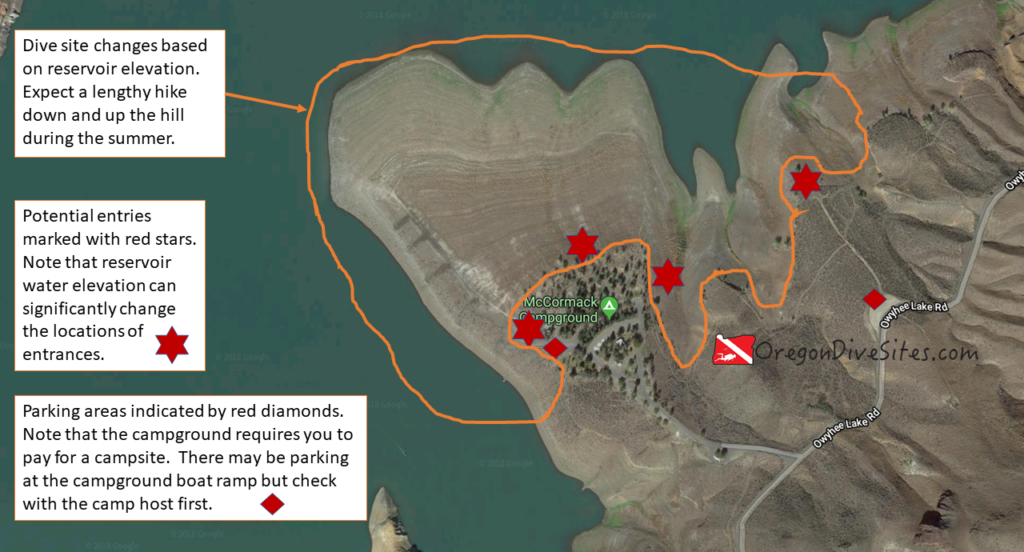 There are several other dive sites in the immediate vicinity including:
Nearest Town:
Adrian, Oregon
GPS Coordinates:
Parking:
Before parking here, check with the camp host to see where they want you to park.  They may have you park out by the main road if the campground is full.
Site Orientation:
The campground is on a peninsula that is surrounded on three sides by the lake.  The steep submerged cliffs can be interesting to dive although there isn't that much interesting topography close to shore.
Entrances and Exits:
The entrances/exits are simple walk-ins although they may be muddy and slippery near the water's edge.
Salt/Fresh:
This is a fresh water dive.
Shore/Boat:
This is a shore dive.
Normal Conditions:
There may be a few waves from passing boats.  Occasionally there can be some current when the dam is spilling a lot of water.
Normal Visibility:
In the late summer, visibility can be 3 inches due to algae blooms and stagnant water.  In the late winter and spring when water flows are high, viz can be up to 30 feet.
Normal Temperature:
Depending on the time of year and how bad drought conditions are, temperatures might be in the mid 30s or the mid 60s.
Best Time of Year:
Spring has the best opportunity for good visibility.
Max Depth:
You might be able to find 100 feet of water when the reservoir is completely full.
Suggested Special Training:
This is an altitude dive site and requires the training to make sure you are within recreational scuba limits.
Difficulty of Dive:
We rate this an intermediate dive site because of the altitude.
Distance of Walk to Entrance:
Depending on where you park and how high the reservoir is, McCormack Campground might be only a few feet from the water or you might have to hike more than 1000 feet to reach the water's edge.
Surface Swim Length:
No surface swim is necessary.
Nearby Places to Camp and Diver-Friendly Hotels:
The campground at McCormack Campground is a good choice.  There are a couple other campgrounds in the immediate area as well.
What Other People Have to Say About This Site:
Please write in the comments below your experiences with this dive site!