The two pullouts along Owyhee Lake Road south of the dam are a good place to get wet in Southeast Oregon.  While lake diving isn't amazing and the sometimes stagnant water of Owyhee Lake can have very low viz in summer, there aren't many options in this part of the world to go SCUBA diving.  The submerged canyon walls fall away from the shore quickly which makes for interesting topography to dive.
There can be a lot of boat traffic in the summer.  Be sure to fly a dive flag.  Boaters aren't used to seeing divers in this lake.
This is one of a series of dive sites in Lake Owyhee.  The other sites include: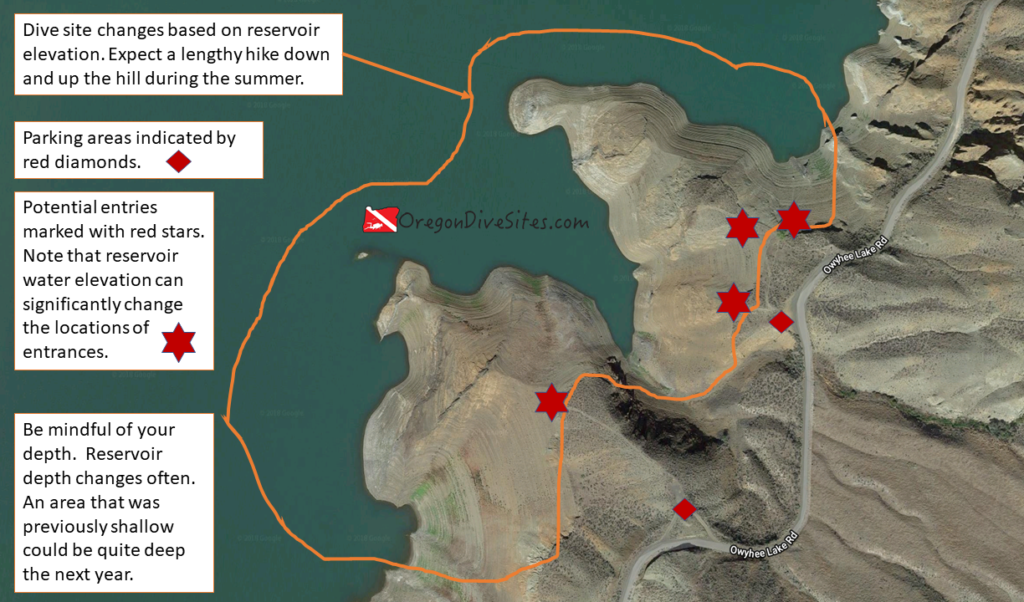 Nearest Town:
Adrian, Oregon
GPS Coordinates:
Parking:
The pull-outs usually have a decent amount of parking except on popular, busy summer weekends.
Site Orientation:
The dive site unfolds along a couple thousand feet of the southeast canyon wall.  There is a particularly interesting cliff along the finger of ridge that heads out from the southern parking area.
Entrances and Exits:
Depending on the height of the water in Lake Owyhee, entrances and exits might be easy or a scramble.  It's a good idea to walk the entrance before attempting it.
Salt/Fresh:
This is a fresh water dive.
Shore/Boat:
This is a shore dive although you can dive here with a boat, too.
Normal Conditions:
The only waves you'll see are from passing boats.  Be sure to have a good dive float.
Normal Visibility:
Depending on the time of year and how much water is flowing into the reservoir, viz could be 30 feet or 3 inches.  In the late winter and spring, cold clean water flows into the lake and improves visibility.  In the late summer, algae blooms can happen that causes viz to go practically to zero.
Normal Temperature:
In the winter and early spring, water temperatures can be in the mid 30s while in the late summer, water temperature can be 60 Fahrenheit.
Best Time of Year:
Spring is a good time to go diving here for better viz and for a fuller lake.
Max Depth:
You won't go past about 110 feet here.
Suggested Special Training:
This is an altitude dive site.
Difficulty of Dive:
We rate this as an intermediate dive because of the potential for a long entrance hike and for the need of altitude training.
Distance of Walk to Entrance:
If the reservoir is full, a SCUBA diver might only need to walk 100 feet.  Otherwise, it might be a 1000 foot hike down the canyon wall.
Surface Swim Length:
No surface swim is needed here.
Nearby Places to Camp and Diver-Friendly Hotels:
There are several state park campgrounds in this area of Owyhee Lake.
What Other People Have to Say About This Site:
Please write in the comments below your experiences with this dive site!