Lake Owyhee Reservoir is a 52 mile long lake in the high desert of Southeast Oregon where hundreds of potential dive sites have never been explored by divers.  The canyon walls and valley make for interesting terrain to check out.  This is an altitude dive due to the elevation of the reservoir.  While diving in fresh water isn't as interesting as all of the life in the ocean, Lake Owyhee is worthwhile to visit and dive if for no other reason than you may be the very first person to dive on a specific part of the lake.  Very few divers ever make it to this part of Southeast Oregon.
In addition to the boat-accessible 52 mile reservoir, there are four sites that are accessible to car-based shore divers.  They include: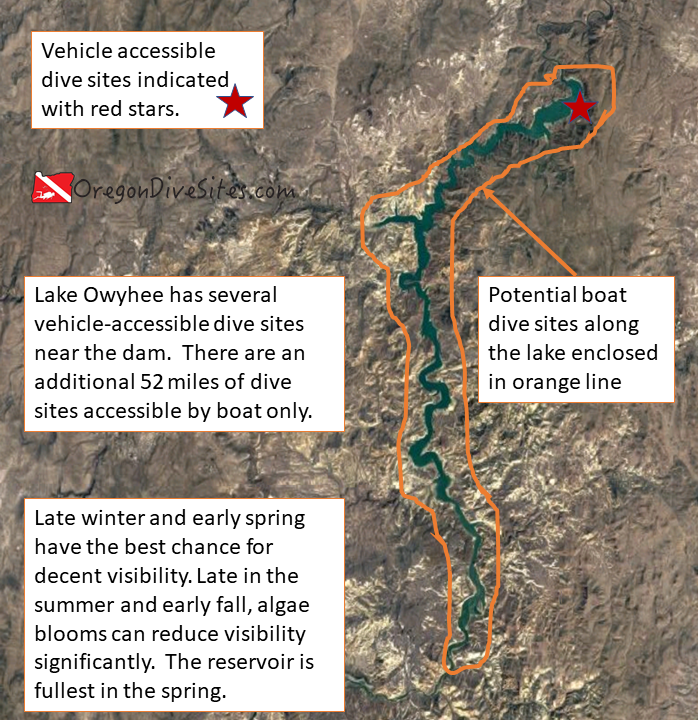 Special Site Notes:
This is an altitude dive.  Please plan accordingly.
There is a lot of boat traffic on the lake especially in the summer.  Because divers are so rare at this lake, boaters will not be looking for or expecting divers.  It's a very good idea to have a dive flag with you and be careful as you surface.
Nearest Town:
Adrian, Oregon
GPS Coordinates:
Parking:
There are several parking areas at the boat ramps at Gordon Creek Boat Ramp, McCormack Campground, and Indian Creek Campground.  The Owyhee Lake Road Pull-Outs do not have boat parking but there is car parking.  Be sure to check with the campground and park hosts before parking to verify where they want you to park a car or a boat trailer.
Site Orientation:
With 52 miles of reservoir to cover, Lake Owyhee is a massive site that can't be captured in one simple description.  Our only advice is to be careful of unexpected currents, boat traffic, and stay away from the intake structures on the dam.
Entrances and Exits:
Depending on the water height behind the dam on Lake Owyhee, SCUBA divers may find water very close to the parking areas and lapping at the top of the boat ramps.  On the other hand, during a drought year, the water might be 50 or even 75 feet below the top of the reservoir.  In low water times, it can be quite the scramble to get down to the water.
Salt/Fresh:
This is a fresh water dive site.
Shore/Boat:
While there are a few shore diving sites, the vast bulk of this dive site is boat-only.
Normal Conditions:
The only waves you will see at this dive site come from boat traffic.  There can be some unusual currents in certain areas so do be careful.
Normal Visibility:
Depending on the time of year and how much water is flowing into the reservoir, you might find 30 feet of viz or 3 inches of viz.  SCUBA divers may find algae blooms in the summer and early fall.  In the late winter and early spring, a large amount of cold, clean water flows into the lake and usually provides better visibility.
Normal Temperature:
In the late summer, temperatures can get up into the low 60s.  In exceptionally low water years, it can get even warmer.  In the winter and early spring when cold snow melt flows into the lake, the temperature may be down in the mid 30s.
Best Time of Year:
Spring has the best chance for both good viz and a full lake.
Max Depth:
Unless you bring a shovel, you shouldn't be able to find any deeper spots than about 115 feet.  As you move up the Lake Owyhee Reservoir, the bottom comes up to meet the surface of the water.
Suggested Special Training:
This dive site requires altitude diver training.
Difficulty of Dive:
We rate this as an intermediate dive site due to needing altitude diver training.
Distance of Walk to Entrance:
Depending on where you go diving and how full the reservoir is, you might only have a few feet to walk to the water or several thousand feet down a steep slope.
Surface Swim Length:
No surface swimming is needed.  The submerged canyon walls are quite steep.
Nearby Places to Camp and Diver-Friendly Hotels:
There are several campgrounds around Lake Owyhee.
What Other People Have to Say About This Site:
Please write in the comments below your experiences with this dive site!