The sunken jetty off of Fossil Point in Coos Bay is a good place to go hunt for crabs or go spearfishing.  Access is a little tricky here.  While it looks like you could shore dive this site, we haven't found anywhere with public access nearby to get into the water.  Instead, you need to use a boat to access the Fossil Point sunken jetty.  Current can really move along at this site from all of the water draining out of the bay so be prepared.  When you anchor your boat before your dive, be sure to do it out of the channel.  This is an active shipping area for the various industries in Coos Bay and a small fishing fleet regularly comes through.
The jetty itself is rather small but it's there underwater.  This is not a big site by any means but very few people dive here so you will have plenty of opportunities to go hunt crabs or spearfish.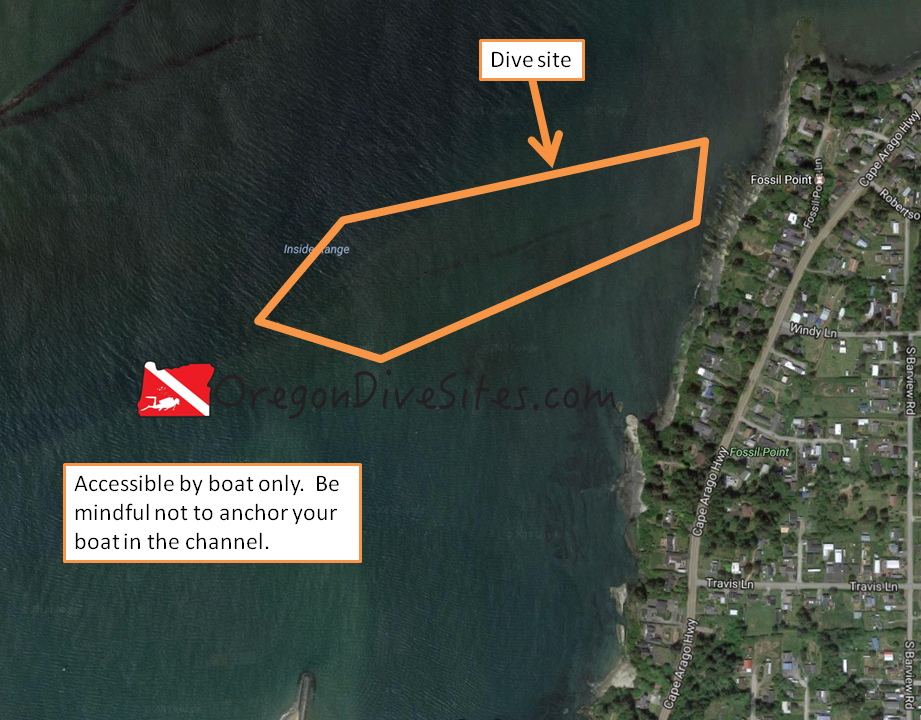 Nearest Town:
The little towns of Barview and Charleston are very close to the Fossil Point sunken jetty.  Just up the road/bay are Empire, North Bend, and Coos Bay.
GPS Coordinates:
Special Directions to Site:
The only access to this site is via boat.  Charleston has a good place to put boats in.  Otherwise, there are many other boat launches in the area.
Parking:
See above.  This site is only accessible via boat.
Site Orientation:
The Fossil Point sunken jetty runs more or less east-west with a little bit of a southerly bend.  As you go farther west, you'll find somewhat deeper water.
Entrances and Exits:
This is a boat dive so be ready to do your proper boat entries and exits.
Salt/Fresh:
This is a salt water dive.
Shore/Boat:
This is a boat dive.
Normal Conditions:
There usually is a current around here.  It can really rip if you don't dive at high tide.  Rarely surf, surge, and waves can make their way in from the ocean.  Usually though it's fairly calm aside from the current.
Normal Visibility:
Viz is usually around 15 feet although it can get worse during storms or when there is a lot of water pumping through Coos Bay.
Normal Temperature:
Water temp is usually in the 45-55F range here.
Best Time of Year:
You can go diving on the Fossil Point sunken jetty any time of the year although you should line up your dive with crabbing season if you're crabbing.
Max Depth:
At the shallowest point, you'll find only 10-15 feet of water at high tide.  However, at the deepest point you can find up to 45 feet of water where the jetty ends and the shipping channel begins.
Suggested Special Training:
Open water divers with a few boat dives under their belts can dive this site.  The two tricky things are entering/exiting from a boat and the current.
Difficulty of Dive:
We rate this as an intermediate dive.
Distance of Walk to Entrance:
No walk since you're diving from a boat.
Surface Swim Length:
No surface swim unless you surface far away from your boat.  Be sure your navigation skills are up to snuff!
Special Site Notes:
Please be mindful of anchoring anywhere close to the shipping channel.  Big ocean-going freighters routinely come in and out of the bay.
Closest Local Dive Shops to Get Air Fills and SCUBA Gear:
There used to be a shop in Coos Bay but it appears to have closed.  The next closest places for air fills are down in Port Orford at the harbor or up in Depoe Bay (if it's still open).  Otherwise you need to go inland to Grants Pass or Eugene for air and a full service SCUBA shop.
Nearby Restaurants We Like:
There is pretty good food all around the bay.  Check out the Fishermen's Wharf Seafood Market on the dock in Charleston for some really fresh seafood.
Nearby Places to Camp and Diver-Friendly Hotels:
We haven't stayed in Coos Bay overnight so please let us know of your hotel and campground recommendations!
What Other People Have to Say About This Site:
Please write in the comments below your experiences with this dive site!